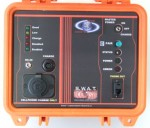 Universal Bluetooth Link (UBL)
A Break-Through Technology that Brings Bluetooth Wireless Cellular Connectivity to the Direct-Link LifeLine™ Series, Direct-Link 007 Series, as well as other Hostage/Crisis Negotiation Systems.
IMPORTANT NOTE: All prices are stated in U.S. Dollars (USD) and are for direct agency sales for delivery within the continental U.S. ONLY. For other pricing inquiries, please contact us directly at 414-276-4471.
.
Item #: ETG-SWAT-UBL Price: $1149.95