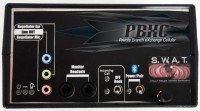 If you are seeking the MOST affordable, feature-enriched and portable solution to provide your team with the ability monitor and/or record communications taking place over virtually any type of telecom system/network the Private Branch Exchange Cellular (PBXC™) is your answer!
Item #: ETG-SWAT-PBXC
Price: $1445.00
Add to Wish List
TELECOM SYSTEM/NETWORK CONNECTIVITY FEATURES:
Residential Analog Landline Telephone Systems
Commercial PBX/Digital Landline Telephone Systems
Wireless Cellular Networks via Cell Phone Handset Bluetooth®
Wireless Cellular Networks via Cell Phone Handset Aux. Jack
With dimensions of 9.00 X 6.10 X 3.35" and weighing less than 2 lbs. the PBXC is highly mobile. In the event that external power is NOT available, the PBXC may be powered/ operated for 7 to 8 hours by installing (2) common 9v alkaline batteries. The PBXC is also equipped with a "Low Battery" LED indicator and supports battery "hot swap" which allows the operator to continue to use the device while a battery is being replaced.
The PBXC also supports an "External Audio Source Line In" function to broadcast audio from a Digital Voice Recorder (DVR) to the subject. To use this function, disconnect the headset's plug from the "Negotiator Mic" jack, connect the DVR and press play.
For a limited time, PBXC Kits ordered by Direct-Link 800 or 007 Series Crisis Response Throw Phone System clients will be delivered with a "broadcast connection" cable. This special cable allows the PBXC to be "patched" into the Direct-Link System's Command Unit Console for expanded audio sharing and more. Please email info@etgi.us or contact us directly at 414-276-4471 for details.
SEE THE PBXC IN ACTION, CLICK THE VIDEO ATTACHMENT BELOW!
IMPORTANT TELCOM SYSTEM/CELL PHONE COMPATIBILITY DETAILS: The PBXC is guaranteed to be compatible with any cell phone when connected wirelessly via Bluetooth®. Due to a lack of industry standards, the PBXC may NOT be compatible with the aux. jack of some cell phone handsets as well as some PBX/Digital Telecom Systems.
---