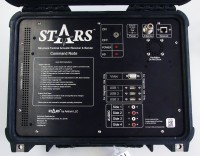 Listen and Talk Through Doors, Windows, Vehicles and More!
Item #: ETG-STARS-SYS3-R
Price: $16900.00
Add to Wish List
The STARS™ System is a new technology designed to help increase situational awareness when responding to a hostage, barricade, and other potentially dangerous missions.
The STARS™ System provides team staff with the ability to covertly listen for voices and other sounds taking place from within an environment by attaching up to (4) wireless Sensor Nodes to the outside surfaces of the environment's entry points (metal/wooden doors, windows, glass, etc..).
The covert audio intelligence provided by the deployed Sensor Node(s) can assist team staff in the determining if a subject or individuals are occupying the environment as well as their approximate location.
In the event that negotiations are necessary, a Crisis Negotiator can use the Sensor Nodes to project their voice onto the surfaces to which they are attached to communicate with the barricaded individual or hostage-taker.
Minimal Subject Cooperation Required for Negotiations (the subject can

ONLY

talk or listen; there is

NO

telephone that a subject can hang-up or refuse to answer).
Sound/Vibrations May be Used by Team Staff to Determine Whether the Subject is Present or Alone and the Approximate Location of any Inhabitants.
Standard Whip Antenna Provides ~ 400 ft. Wireless Operating Range (parabolic grid antenna that significantly increases radio range is also available).
Command and Sensor Node Signal Transmission Secured through 256 AES Encryption to Prevent Media Eavesdropping.
Sensor Node "Listen" and "Project" Modes are Independently Selectable.
Audio Data Recording Function Configured to Client's Preference (never record, delayed start record, selective record, or continuous record).
ETGI does have a limited number of STARS Systems available for agency evaluations. For additional information on getting a STARS System for departmental evaluation, please contact us directly at 800-873-2872. IMPORTANT NOTE: All prices are stated in U.S. Dollars (USD) and are for direct agency sales for delivery within the continental U.S. ONLY. For other pricing inquiries, please contact us directly at 414-276-4471..
---

Structural Tactical Acoustic Receiver & Sender (STARS™) System with Continuous Record Command Node, Dedicated Laptop PC, Small Parabolic Antenna Kit and Standard Components/Accessories
STARS System is Delivered with the Following Components:


(1) Command Node


(1) PC Headset


(1) Network Cable


(1) Whip Antenna with 10 ft. Extension Cable


(1) Small Parabolic Antenna Kit


(4) Sensor Nodes with foam lined Pelican® 1500 Transport/Storage Case


(32) Sensor Node Disposable Attachment Plates with Adhesive


(48) Li-ion Batteries (non-rechargeable)


(1) A/C Power Cord


(1) Vehicle D/C Power Adapter


---

Small Parabolic Antenna Kit
Small Parabolic Antenna Kit; includes: 20 ft. Mast Cable, Lightning Protector, and 4 ft. Interface Cable. NOTE: Mast with 1.2 to 2.3" diameter pole required for mounting (not included).
---

Additional/replacement 12-pack of li-ion 123A batteries (non-rechargeable)
Additional/replacement 12-pack of li-ion 123A batteries (non-rechargeable)
---

Additional/replacement 8-pack of Disposable Attachment Plates with Adhesive (for Sensor Node non-ferrous material/surface attachment)
Additional/replacement 8-pack of Disposable Attachment Plates with Adhesive (for Sensor Node non-ferrous material/surface attachment)
---

Additional/replacement 8-pack of Disposable Attachment Plates with Adhesive (for Sensor Node non-ferrous material/surface attachment)
Additional/replacement 8-pack of Disposable Attachment Plates with Adhesive (for Sensor Node non-ferrous material/surface attachment)
---