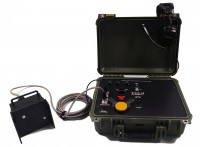 An Affordable, Versatile, Compact & Easy-to-Use Tool Developed for a Variety of Critical Incident Response Applications!
Item #: ETG-SWAT-TCU3-KIT
Price: $5499.95
Add to Wish List
The TCU-3 is delivered with a steel, ultra-rugged and weather-resistant Two-Way Remote Speaker/Microphone that is designed to deployed in or near crisis event location. The Remote Speaker/Microphone is equipped with a handle to allow the device to be carried and deployed by hand, a robot or attached to the outside of an emergency response vehicle.
By default, the Remote Speaker/Microphone is set to "listening mode," which allows first responders to gain immediate audio intelligence by providing them with the ability to listen for voices or sounds present within proximity of the device.
In addition to its ability to project an operator's voice, the Remote Speaker/Microphone also has the capability to project extremely loud "tone" or "wail" sounds of more than 120 decibels to serve as a tactical auditory distraction or warning alarm.
At any time, an operator may use the "PUSH TO TALK" feature of the TCU-3's Command Module to disengage "listening mode" and project their voice through the Remote Speaker/Microphone to negotiate with a subject. This feature may also be used like a bullhorn by Tactical personnel to hail warrant execution or surrender commands to a subject or for crowd management to address large group of individuals.
The audio projection volume and listening sensitivity levels of the Remote Speaker/Microphone may be adjusted by turning the control dials located on the TCU-3's Command Module.
The Command Module is also equipped with audio output jacks to support the connection of devices to allow for team staff to monitor and/or record the audio projected through or picked up by the Remote Speaker/Microphone.
FOR COMPLETE INFORMATION, PLEASE DOWNLOAD THE LITERATURE AND VIDEO FILES BELOW.
---