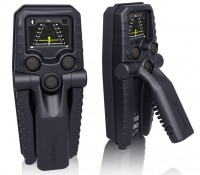 The Xaver™ 100 is an ultra-portable, handheld and durable presence of life detector. The Xaver™ 100 provides Military, Law Enforcement and Search & Rescue personnel with critical information in real-time about the presence of life and its distance behind a wall, enabling better tactical decision making in various operational scenarios such as: Tactical Entry/Assault: Alert operators to the presence of potential threats; Hostage Recovery: Quickly determine which spaces are occupied; Search & Rescue: Effective detection of trapped or injured people; Breaching: Plan for effective and safe entries and Force Protection: Create a "Virtual Window" to spot external approaching threats providing a clear operational advantage and the ability to "step into the known™".Please inquire for pricing
Item #: ETG-XAVER-100
Price: $0.00
Add to Wish List
Key Features:
Ultra portable and compact
Optimized ergonomic and rugged designed
Reliable detection of life behind most common wall materials
Simple user interface for clear and immediate interpretation
Indication of target presence, movement direction and distance
20m (65 ft.) detection range
Enables "Stand-Off" operation (within detection range)
Coexistence capability for operation of multiple Xaver™ 100 units simultaneously
Optional internal wireless capability for remote monitoring and control
Complies with MIL-STD-810F
Radiation Safety:
The Xaver™ 100 is completely radiation safe. It is designed to provide superior performance while meeting the requirements of ICNIRP-1998 radiation exposure restriction.
IMPORTANT NOTE: Enforcement Technology Group, Inc. (ETGI) is ONLY authorized to sell Xaver Through-Wall Radar Equipment to Canadian Law Enforcement and Military Agencies. Information, products, processes and technologies described in this document may be subject to intellectual property rights. These rights are reserved by Camero-Tech, Ltd. or other owner thereof. Xaver™ is a registered trademark of Camero-Tech, Ltd. and is used with permission.
Click on the links below to download additional information or to watch a promotional Xaver 100 video clip.
For pricing information, please contact us directly at 414-276-4471.
---