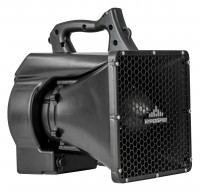 Be Heard Loud & Clear in Variety of Applications!
Item #: ETG-MO-BASIC
Price: $1895.00
Add to Wish List
MaxOut™ Portable Acoustic Hailers incorporate unique and proprietary technology engineered to project both live or recorded vocal commands as well as alert tones at extremely high volume levels (up to 144dB) with remarkable clarity/intelligibility.
Vocal commands and alert tones projected through MaxOut™ Portable Acoustic Hailers easily penetrate high background noise environments to distances of 2,460 ft. (750m)+ to help ensure they will be heard by the intended target(s).
Unlike traditional bullhorns or megaphones, MaxOut™ Portable Acoustic Hailers are equipped with a built-in message record/playback feature. This feature along with the live projection of vocal commands and alert tones may also be used remotely by connecting an iOS or Android smart device running the free Mobile App to the unit's 3.5mm (1/8") Line Input Jack.
KEY FEATURES:
Highly Intelligible Voice & Alert Tone Projection to Distances of 2,460 ft. (750m)+
Peak Acoustic Sound Pressure Level (SPL) Output up to 144Db
0.85 Sound Transmission Index (STI) Penetrates High Background Noise Environments
Ease-to-Use Built-In Message Record/ Playback Feature
Compact/Portable Lightweight & Rechargeable Battery Powered
Weather-Resistant & Rugged Aerospace Composite Construction
3.5mm (1/8") Line Input Jack for External Audio Source Connectivity/Projection
Downloadable iOS & Android Application for Smart Phone Operations (Wired)
1 Year Limited Factory Warranty
Optional Tripod, Magnetic Mounts & Other Accessories Available
For complete information, please download the literature, specifications and price schedule file below.
---

MaxOut™ Portable Acoustic Hailer Basic
MaxOut™ Portable Acoustic Hailer Basic (Model# ETG-MO-BASIC) (black) featuring built-in Record/Play functionality with Internal Rechargeable Battery Pack and 120v AC Wall Outlet Charger, Dynamic Microphone, 3.5mm (1/8") Aux. Line Input Cable, Shoulder Strap, Accessory Transport/Storage Bag, Downloadable iOS/Android Application for Smart Phone Operations and (1) Year Limited Factory Warranty
---

MaxOut™ Portable Acoustic Hailer Pro
MaxOut™ Portable Acoustic Hailer Pro (Model# ETG-MO-PRO) (black) featuring built-in Record/Play functionality with Internal Rechargeable Battery Pack and 120v AC Wall Outlet Charger, Dynamic Microphone, 3.5mm (1/8") Aux. Line Input Cable, Shoulder Strap, Accessory Transport/Storage Bag, Downloadable iOS/Android Application for Smart Phone Operations and (1) Year Limited Factory Warranty
---

Universal Magnetic & Tripod Mounting Kit (includes Tripod) for MaxOut™ Portable Acoustic Hailer
Universal Magnetic & Tripod Mounting Kit (includes Tripod) for MaxOut™ Portable Acoustic Hailer
---

Custom Hard-shell Transport/Storage Case with Wheels for MaxOut™ Portable Acoustic Hailer
Custom Hard-shell Transport/Storage Case with Wheels for MaxOut™ Portable Acoustic Hailer
---