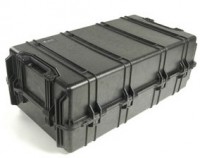 Direct-Link Crisis Response Throw Phone System Transport/Storage Solutions from Pelican!
Item #: ETG-PC-1780F
Price: $674.95
Add to Wish List
With interior dimensions of 41.12 X 21.54 X 14.88" (104.4 X 54.7 X 37.8cm), the Pelican 1780 Case offers a watertight and crushproof transport/storage solution for the Direct-Link Bridge Series System's Command Console, Throw Phone, FieldWatch Tactical Remote Unit (TRU) XL, (2) TRUs, Forward Tactical Position (FTP) Junction, Video Multiplexer Kit and various System accessories such as Negotiator Headsets, Monitoring Headphones and more.
The Pelican 1670 Case features a retractable extension handle and (4) Strong Polyurethane Wheels and weighs 56 lbs (24.4 kg).
---

Pelican 1780 Rolling Transport/Storage Case with Foam, Black
Pelican 1780 Rolling Transport/Storage Case with Foam, Black
---

Pelican 1780 Rolling Transport/Storage Case without Foam, Black
Pelican 1780 Rolling Transport/Storage Case without Foam, Black
---