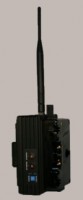 The OTX Series of COFDM Digital Video Transmitters excel in performance by providing high out powers in excess of 0.6W while only consuming 6.5W or DC power. They are also lightweight and run cool which permits usage in many areas.
Item #: SWAT-ARF-OTX
Price: $0.00
Add to Wish List
OTX Series Transmitters have (16) preset channels that provide a broadcast quality video channel, stereo audio and a data channel.
A variety of OTX Series Transmitter accessories and alternative configurations are available such as a Data Transceiver (Item# SWAT-ARF-TR430-2G) that is capable of communicating data to speeds of up to 200Kps ideal for UAV, UGV, UAS and PTZ control. A configuration to support the connection of (2) separate video inputs to provide user's with the ability to select between the broadcast of standard and Infrared (IR) cameras. A PC Graphic User Interface (GUI) which allows for a user to change the preset channel allocations and other equipment parameters as well as AES 256 Encryption options are available to governmental and military agencies.
- UHF Band 390-470 MHz, 770-940 MHz or Custom Frequency Band (Item # SWAT-ARF-OTX427)
- L-Band 1.6-1.9 GHz Standard or Any 300 MHz Range in L-Band (Item # SWAT-ARF-OTX527)
- S-Band 2.1-2.5 GHz Standard or Custom Band Allocation (Item # SWAT-ARF-OTX627)
Radio Frequency (RF) Power Output in Excess of 0.6 W with (4) Power Control Levels
(1) Broadcast Quality Video Channel (2 video inputs optional) in NTSC or PAL Format
(2) Audio Channels and (1) Data Channel at 19.2Kbps
(16) Preset Frequencies
Bandwidth Selectable at 2, 3, 4 MHz OR 5, 6, 7 or 8 MHz
Robust QPSK Modulation
Connectors: SMA (f) for RF Output & LEMO size 0B for Power, Audio & Data
Power: Unregulated 9-20V DC (nominal 12V @ 600mA (max power))
Weight: 1.0 lbs (450g)
Dimensions (W X H X D): 4.0" X 5.25" X 1.50" (100 X 130 X 40mm)
If you are seeking a COFDM Transmission solution, please contact us directly at 800-873-2872 for direct service and pricing information.
---

OTX Series COFDM Transmitter UHF Band 390-470 MHz, 770-940 MHz or Custom Frequency Band
OTX Series COFDM Transmitter UHF Band 390-470 MHz, 770-940 MHz or Custom Frequency Band
---

OTX Series COFDM Transmitter L-Band 1.6-1.9 GHz Standard or Any 300 MHz Range in L-Band
OTX Series COFDM Transmitter L-Band 1.6-1.9 GHz Standard or Any 300 MHz Range in L-Band
---

COFDM Series COFDM Transmitter S-Band 2.1-2.5 GHz Standard or Custom Band Allocation
COFDM Series COFDM Transmitter S-Band 2.1-2.5 GHz Standard or Custom Band Allocation
---